Back when we were kids during my playtime, my cousin and I will have different activities. She will be busy with her crafts or she is downstairs helping out cooking. As for me, I will either be in our room, reading books and when the internet was available - chat and email my friends.
Today she still does her crafts and incorporates it with her baking or when she does her once-in-a-blue-moon creations (invitations).
Sad I do not have any of her creations with me. I guess moving around a lot and not having a permanent place to put keepsakes does this to you.
As for me, I try my hand in crafts from time to time - like my cross stitch obsession and then now to baking.
I have seen a lot of people and some my friends who can make something beautiful from scratch.
Am I creative enough
This is the question I ask myself and so since I have a lot of free time, I thought I will start with sewing things just basic stuff. You know things you have learned in your Home Economics class. Most probably, throw pillow covers... or table runners... or I don't know but something.
Let us see if I can make this happen ;)
Thankfully, I still have our old sewing machine with me (a shopping splurge that we did not intend to do but bought it anyway since we were influenced by a good friend....)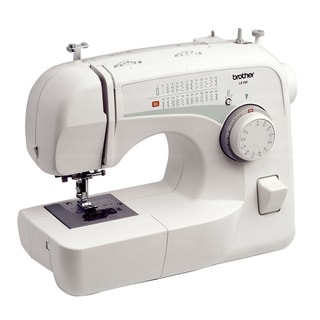 I think my sewing machine looks like this
Now, where to set it up... hmmm...